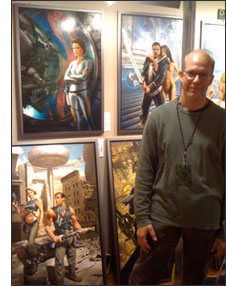 Artist Dave Seely at Illuxcon II
I'm up in Rick Kleffel's latest Agony Column Podcast:
12-11-09:
A Conversation with Lou Anders : New Fantasy Triangle, Steampunk and Illuxcon II
Rick says, "That was, of course, my first question when we started talking. And indeed, I'd tend to agree that the three writers do sort of triangulate on the new aesthetic for fantasy fiction, the post-Perdido world of gritty and weird fiction. But that was only the starting point for our conversation.

We jumped next to a discussion of a barrel-full of Steampunk novels that are forthcoming from Pyr, including a French novel, the first in a series that is described as "Dumas with dragons." And we talked about Lou's experience at Illuxon II , an intriguing invite-only meeting of artists and art directors. You can hear a fascinating look at contemporary science fiction from a variety of angles by following this link to the MP3 audio file."